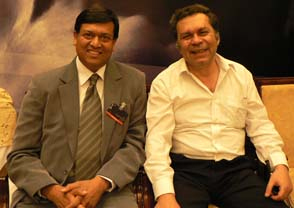 Pradeep Kumar (President) with Dr Goldratt in 2006 at the Viable Vision Seminar in Chennai, India
Vision of TOC Academy is to significantly impact the way of living in the world by simplifying the world view of managing businesses and personal lives.
Business owners and Individuals shall be using TOC knowledge as the preferred way of thinking in managing their businesses and lives towards continuously growing prosperity and happiness.
TOC academy strives for helping knowledge seekers to continuously improve their knowledge, and skill of using TOC by freely interacting with one another and reapplying the successes, and insights.
TOC Academy's mission is to spread TOC related knowledge across the Globe
Most of TOC knowledge is available on Web and in Books written by many authors. Several of these books and links to the web are included under the "TOC Resources" section of this site. TOC Academy shall be glad to answer question from TOC knowledge seekers. TOC Academy also arranges coaching to individuals and groups if needed. TOC Knowledge seekers may also join the Academy's "LEARNING FORUM" to learn from one another.
TOC Academy's Fellow Associates are accomplished coaches for -
CEO/Business Owners' coaching to understand constraints in way of substantial growth of their organization

Coaching to enhance effectiveness of CEO Coaches and Executive Coaches

Coaching in critical leadership and management skills

Coaching for conceptual understanding of TOC tools like DBR, Critical Chain, Buffer Management, Measurements, Mafia Offer, CRT, FRT, Evaporating cloud, PRT, TT, and others.

President
TOC Academy
Email: pradeep@tocacademy.com